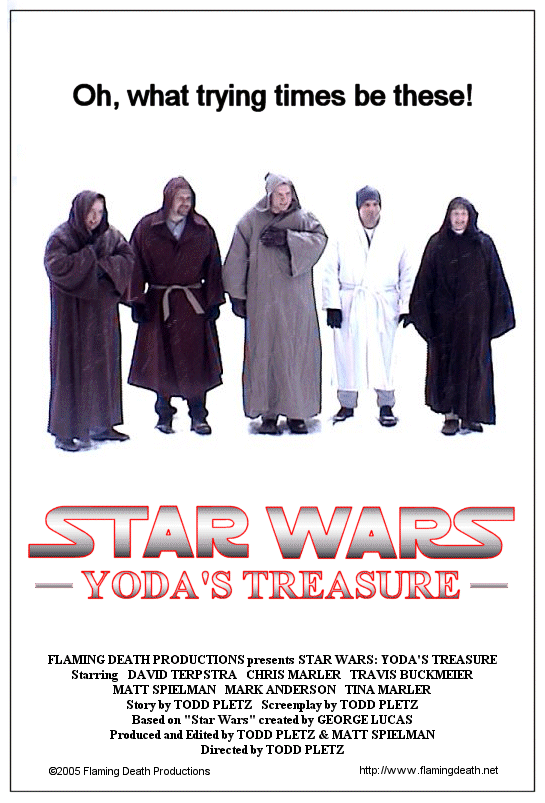 TRAILER- running time: 00:55

MOVIE- running time: 12:14

OUTTAKES- running time: 06:55


| | |
| --- | --- |
| Yes, we use REAL snow! | Ready for battle |
| Filming Chris in Winona | Cool Maul |

Dave Terpstra
Harn Wineam
Chris Marler
An-Win March, Famous Sci-Fi Writer
Travis Buckmeier
Trav Jofai, Dark Jedi
Matt Spielman
Darth Smiley
Mark Anderson
Adi-Karim Nesdari
Tina Marler
Jedi #5, Writer's Spouse
Supporting Cast
Todd Pletz: Yoda, Rogue Jedi, Police Officer #1, Camera Operator
Chad Richter: Police Officer #2

written by
Todd Pletz
produced by
Todd Pletz &
Matt Spielman
directed by
Todd Pletz
costumes
Juli Spielman
Stacie Wendinger
Amanda Wolkenhauer
Suzann Wolkenhauer
cosmetics
Todd Pletz
cosmetics supplied by
B's Costume Rental
in Pine Island, MN
prop master
Todd Pletz
storyboards
Todd Pletz
camera operators
Cory Anderson
Arlen Peterson
Todd Pletz
Chad Richter
Matt Spielman
Wade Wolkenhauer
cameras
Canon ZR45 MC MiniDV recorder
Sony DCR-TRV280 Digital8® Handycam®
boom operators
Tina Marler
Chad Richter
Wade Wolkenhauer
lighting
Sheldon Las
two bushes out in the woods
visual editing
Todd Pletz
Matt Spieman
sound effects
Todd Pletz
Matt Spielman
planet texture
"Endor" by Dan North
Shuttle Tydirium by
Olivier Couston &
Jose Gonzales Pareja
drums
Angela Lexvold
music
DeWolfe
John Williams
original sound design
Ben Burtt
additional sound effects
Todd Pletz
filmed on location in
Cannon Falls, MN
Farmington, MN
Kokomo, IN
Pine Island, MN
Winona, MN
STAR WARS characters and situations
property of Lucasfilm LTD
MONTY PYTHON & THE HOLY GRAIL
characters and situations
property of Python (Monty) Pictures LTD

Cannon Falls, MN
Lake Byllsby: I wanted a barren snowswept landscape for our Hoth scenes. Since
we hadn't gotten a decent snowfall but still cold enough to freeze the lakes over,
filming on a lake was an obvious choice to me. The only problem was to make sure there
was enough of a distance in the background so we didn't see any trees. The trees ended
up making into the film anyway, but they're really not too noticable.
Farmington, MN
Industrial park area: Having a forest area background without noise issues was
a challenge when filming in Farmington. But, after dealing with windy conditions and
even a passing train, it still all worked out for the best.
Kokomo, IN
Matt Spielman residence: Shooting out at Matt's was a necessity after his first
shoot in Winona ended up being in 90 degree heat with high humidity. The makeup did not
work well in that kind of weather. So, I shot some backgrounds at a couple of locations
and then filmed Matt against blue screen and green screen right at his house.
Pine Island, MN
David Lexvold residence: Although the original plan was to use a paintball field
in nearby Oronoco, my in-laws came through and opened up their property to us for filming.
David's property covers a few acres complete with grassy plains, woods, an outdoor cellar,
and a stream located down in a small valley. Perfect!
Winona, MN
The bluffs over Winona: This was the prime spot for the cliff scene. Not only do we
have a series of cliffs (one on top of the other) to facilitate camera operations, but it's
located in a very wooded area which made it match up well with the scenes shot in Pine
Island.