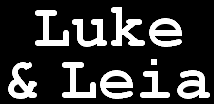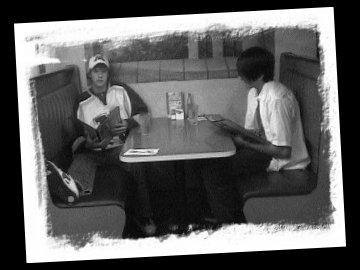 Luke & Leia - edited version
running time: 03:51

Luke & Leia - full version
running time: 05:59




The set




From another angle




God...I mean, Todd, at work




The booth




Marshall




Taking a last look at the script




Matthew in meditation




Matthew showing off his black eye




"Hi, my name is Abbie, and
I'll be your server today!"




Shawn and Chris, who is trying
to make the blooper reel

Marshall: Marshall Fratzke
Matthew: Matthew Carlson
Waitress: Abbie Fratzke
Adult Customer: Chris Marler
Child Customer: Shawn Pletz


Director
Todd Pletz
Producer
Todd Pletz
Associate Producer
Matt Spielman
Screenwriter
Todd Pletz
Cameramen
Todd Pletz
Matt Spielman
Still Photography
Matt Spielman
Editor
Todd Pletz
Boom Operator
Alan Carlson
Music Supervisor
Todd Pletz
Gaffer
Todd Pletz
Casting
Todd Pletz
Drivers
Marshall Fratzke
Todd Pletz
Catering
Todd Pletz
Matt Spielman
Production Designer
Todd Pletz
"Computer Life"
by Sodanation ©2008

Chula Vista - West St. Paul, MN
Much of the movie was filmed all in one location. Choosing this particular
restaurant was an easy enough decision since Chris happened to still have
"pull" there. Internal shots were in one of the booths, and external shots
were on the streets and parking lot around the restaurant.
Fratzke House - New Prague, MN
There is a brief scene at Marshall's house to start off the film, and that's
all I can tell you.