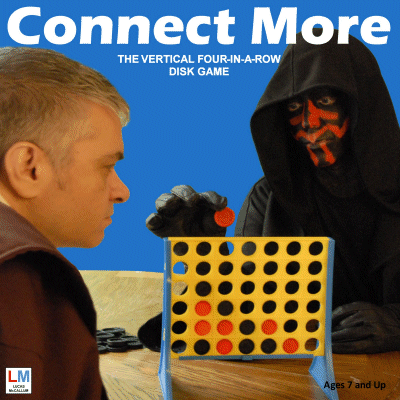 | | |
| --- | --- |
| The set | Behind the scenes |
| Darth "Darin" Maul | The Force is with Jedi Chris |
| Good vs Evil | The battle begins! |

Jedi: Christopher Barton
Darth Maul: Darin Rowles
Announcer: Ron Ketterling

Director
Todd Pletz
Producer
Todd Pletz
Screenwriter
Todd Pletz
Conceived by
Mark Anderson
Director of Photography /
Camera Operator
Elizabeth Lexchel
Still Photography
Elizabeth Lexchel
Editor
Todd Pletz
Boom Operator
Cory Anderson
Gaffer
Cory Anderson
Casting
Todd Pletz
Production Designer
Todd Pletz
Costumes
Suzann Wolkenhauer
Makeup
Todd Pletz

Pletz Residence - Pine Island, MN
The entire short film was shot at one location. I wanted the setting to look
modern enough yet give the impression of a normal, everyday dining room.
Since the rental town home I was living in at the time gave such a feeling,
I decided this would be the best location for filming "Connect More". I
considered a couple of other locations, but none were as appealing to me as
the one that I saw daily right in front of me.